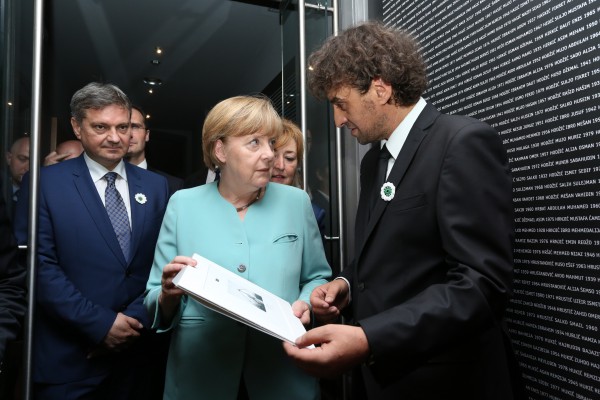 As part of an official visit to Bosnia and Herzegovina, German chancellor Angela Merkel, visited the Gallery 11/07/95 to honor genocide victims from Srebrenica and to meet with the representatives of the victims. The chancellor visited the Gallery accompanied by the German Ambassador Christian Hellbach and Chairman of the Council of Ministers Denis Zvizdić , they were greeted by Tarik Samarah the founder of the Gallery 11/07/95 and author of the exhibition, Ćamil Duraković, Mayor of Srebrenica, Hasan Nuhanović, former UN translator and Srebrenica survivor, as well as the mothers of Srebrenica.
The photograph that attracted the most interest of Angela Merkel, was taken during the exhumation of secondary mass grave. It is a photograph showing the hand of anthropologist Ewa Klonowski holding the hand of the Srebrenica victim. Tarik Samarah referred Chancellor Merkel to the existence of primary and secondary mass graves, emphasizing that the genocide in Srebrenica was organized, the killings were done systematically, and that there have been situations, where remains of one body were found in several different locations. Chancellor Merkel said that she was shocked and could not understand that people are capable to do such atrocities.
After going through the exhibition, Angela Merkel encountered with the mothers from Srebrenica, who presented her "Flower of Srebrenica" and said that it is very important to pass a law that would prohibit the denial of genocide, to which the Chancellor replied that she will do everything within her power to do so.